Script - Mobile apps
Mobile App scripts helps you create high-quality and feature-rich apps quickly and efficiently
Buy mobile app scripts from 100s of available app designs. We provide cost-effective health care apps, education apps, business and lifestyle apps. Mobile app scripts can help developers create high-quality and feature-rich apps quickly and efficiently, while also reducing costs and ensuring compatibility and security.
Get Quote
We've used VG Infotec for a number of projects over the last two years including the creation of a front end dashboard and website to give our clients an industry leading experience and we're currently working on an exciting app
Mukesh & VG team was an absolute pleasure to work with! He quickly understood the vision and needs of my company, and suggested and then custom built our custom CRM and created complex automations for our website. Him and his team ar
VG Infotec is quick, available 24*7 and automated my system, capable to understand any concept, great work done Recommend to all.
Team VG Infotec is energetic and they can conquer anything. Starting from our aws server to voice calls and video calls with amazing admin panel and CRM, we got extraordinary software services and server infrastructure setup by this amaz
VG Infotec kept working til I was satisfied. Even though I took a long time to review and made the project significantly longer they still worked really hard to complete a professional site. Over and above the technical experties and exc
Creative work
We have completed thousands of projects, some of them showing important projects here.
EV Station
The EV Station app is a mobile application that allows users to locate nearby electric vehicle charging stations, pay for charging services online, and track their charging history. It is built using the React Native framework, making it available on both iOS and Android platforms.
View Case Study

→
Bus Booking
The Bus Booking App is a mobile application built using React Native for iOS and Android platforms. The app allows users to search for and book bus tickets for their desired travel destinations. Users can also make online payments through the app for their bookings.
View Case Study

→
Vehicle Rental
The Vehicle Rental App is a React Native-based mobile application for iOS and Android that allows users to easily rent vehicles online and make payments through the app. The app provides a seamless user experience with a user-friendly interface and simple navigation, allowing users to search for available vehicles, choose the one that suits their needs, and complete the booking process.
View Case Study

→
VG Infotec's customer service is super amazing, even after 2 year of project, they are always ready to help us 24*7 on time. Great skill sets. Good knowledge of cloud server like aws, digital ocea ... Read More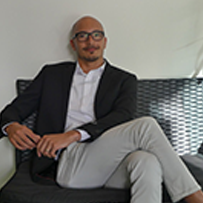 Gabriel Vieira Santos - President / CEO - Australia
Cab
Cab is a mobile app that allows users to make online payments for their cab rides using React Native on both iOS and Android platforms. With a user-friendly interface and secure payment processing, Cab simplifies the payment process for cab rides.
View Case Study

→